Caddie Program
Caddie Program at Barton Hills CC
The tradition of Golf Caddies continues...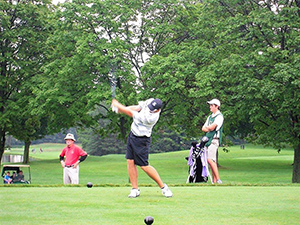 Barton Hills Country Club offers young men and women ages 14 and older an excellent work environment as caddies. While at Barton Hills Country Club, caddies receive valuable training and work experience where they are expected to conduct themselves in an adult manner at all times. In addition, they will work outdoors, learn the game of golf and good sportsmanship while earning a fair wage. Since a portion of their pay is performance based, caddies quickly learn the importance of training, reliability and work ethic.
Barton Hills Country Club is an active contributor and supporter of the Western Golf Association/Chick Evans Scholarship Foundation. Through this foundation, caddies who demonstrate high academic performance, good citizenship, as well as a good caddie record, are eligible to apply for a four year full scholarship to the University of Michigan, or Michigan State University before their senior year of high school.
We limit the number of new applicants to our caddie program each season. This will ensure our new recruits and returning caddies will have an equal opportunity at receiving a reasonable amount of caddie jobs throughout the season. All other applications will be placed on a waiting list and candidates will be contacted as positions become available. Applicants will be selected as to whom we feel best fits our program.
In summary, Barton Hills Country Club offers a fine work opportunity for young men and women in a healthy, safe, positive environment. We appeciate your interest in our caddie program.
Take a caddie, help a caddie
The Evans Scholarship was established in 1929, by famed amateur golfer Charles "Chick" Evans Jr. It provides full housing and tuition scholarships to deserving caddies throughout the country. Currently, more than 850 caddies are attending college on scholarship and there are more than 9,000 Evans Alumni. Most scholars attend one of the 14 universities where the Foundation owns and operates a Scholarship House. The Evans Program is funded by contributions from more than 100,000 golfers, as well as Evans Alumni and proceeds from the BMW Championship.
Each year, more than 840 deserving caddies attend college on full tuition and housing grants from the Evans Scholars Foundation. To qualify, caddies must be nominated by their club and meet four requirements.
Strong caddie record: Applicants must have caddied successfully and regularly, for a minimum of two years and are also expected to caddie and/or work at their sponsoring club during the summer when they apply for the scholarship.
Excellent academics: Applicants must have completed their junior year of high school with a B average in college preparatory courses and are required to take the ACT.
Demonstrated financial need: Applicants must clearly establish their need for financial assistance.
Outstanding character: Applicants must be outstanding in character, integrity and leadership.
The University of Michigan established an Evans Scholarship house in 1952. The house is located at 1800 Washtenaw Avenue and currently houses over 60 scholars. As the premier course in the vicinity of the University of Michigan, Barton Hills Country Club has a special responsibility and obligation to support this worthy program.
One way to provide support is to use a caddie whenever you can. Not only does it help the caddie qualify for a scholarship, but it gives you a better and healthier golf experience by walking the course. Please contact our Outside Services Manager to reserve a caddie for your improved golf experience.
Outside Services Manager
Phone: 734.663.8511 Ext 1
E-mail: bartongolfshop@bartonhillscc.com